Introduction to Pathfinder Nexus
Demiplane's mission is to create a seamless pathway for people to create, play, and adventure together, both in-person and virtually. While tabletop roleplaying games have evolved rapidly in recent years, at their core they are meant to connect people through stories they tell together. This is where Demiplane's Pathfinder NEXUS solution comes in.
Pathfinder NEXUS is an official all-in-one online compendium and toolset which aids play alongside both physical tabletops and virtual tabletops. As an online hub for your TTRPG experience, it hosts a library of enhanced rulebooks and quick-reference resources, as well as interactive tools useful for matchmaking, planning games and managing real-time play for game masters and party members alike.
Whether you're running the game or simply joining the adventure, the Pathfinder NEXUS creates an accessible, intuitive experience to bring your story to life.
Getting to Know Your Nexus
Currently, the Pathfinder Nexus is Demiplane's largest NEXUS, with even more new features on the way. The features we develop for Pathfinder NEXUS will ultimately apply to all our games based on our development roadmap. This means that you'll have an ever-growing TTRPG ecosystem to explore and discover new games. For now, lets get to know the Pathfinder Nexus.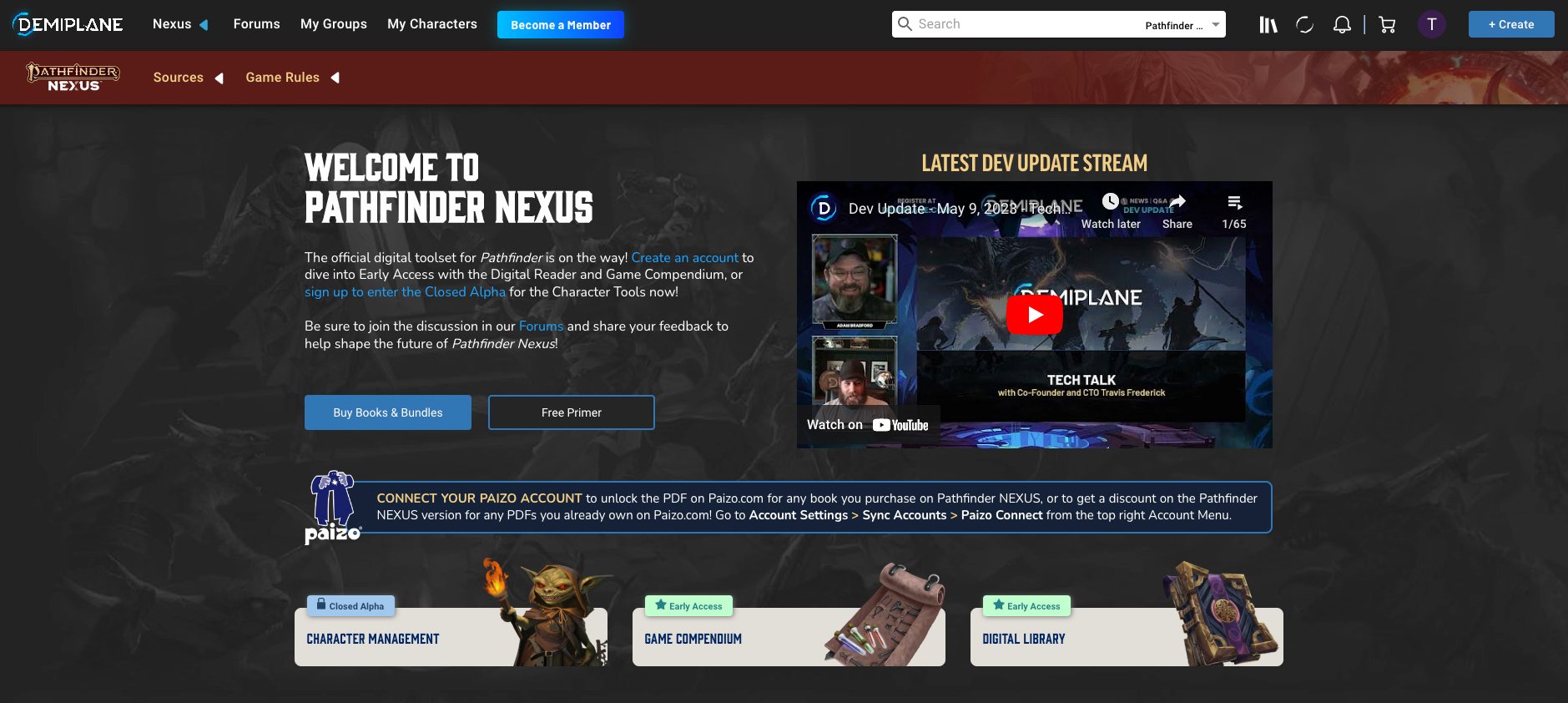 Once you're inside Pathfinder NEXUS, you'll see a welcome page showcasing the latest release notes and updates. From this page, you can navigate to the online store to buy books and bundles, download a free Pathfinder primer, or watch the latest stream from the Demiplane dev team.
Scrolling down from here, you'll find the tools available within Pathfinder NEXUS. Currently, there are three main elements: Character Management, the Game Compendium, and the Digital Library.
Pathfinder NEXUS Character Tools
Demiplane is thrilled to be an official partner with Paizo in offering digital Pathfinder character tools. Pathfinder NEXUS Character Tools features an informative, flexible, and user-friendly Pathfinder character builder, along with a whole host of options for managing your characters. Whether you're wanting to see a concept come to life, or looking for an easier way to manage your characters while you adventure with them, Character Tools has the features you need.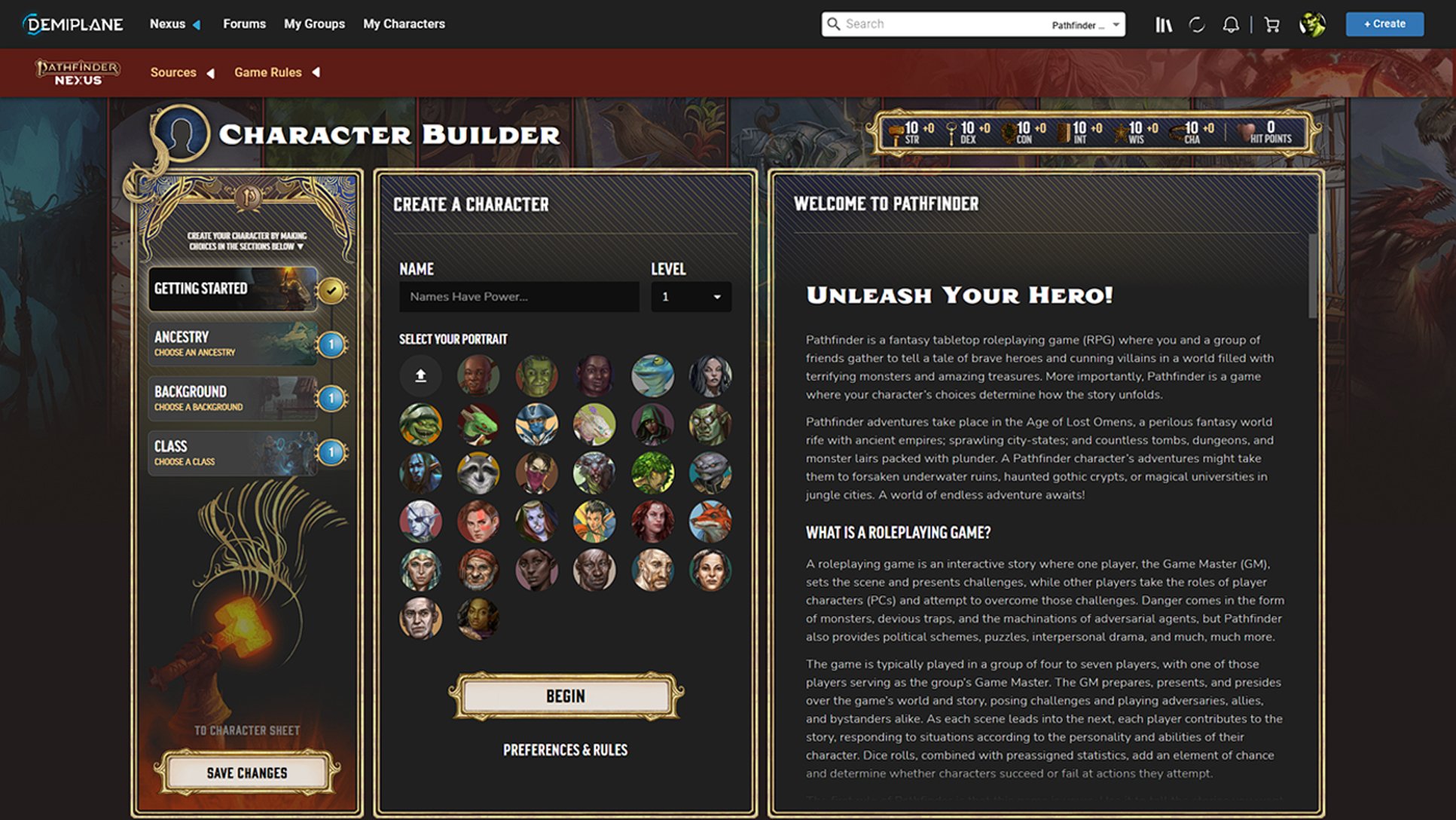 Game Compendium
Accessing all of the information a game master or player could need has never been easier. With Pathfinder NEXUS, you can explore Pathfinder game rules and mechanics for free. Classes, Ancestries, Archetypes, and Heritage Primers include information and options across all official content in one place. The sections for Feats, Spells, Items, Creatures, and Backgrounds provide searchable tables with advanced filtering to save you time whether you're prepping for a game or in the middle of one. The Compendium will continue to add even more utility, so keep an eye out for updates and new features.

Learn more about the Pathfinder Game Compendium in Pathfinder NEXUS.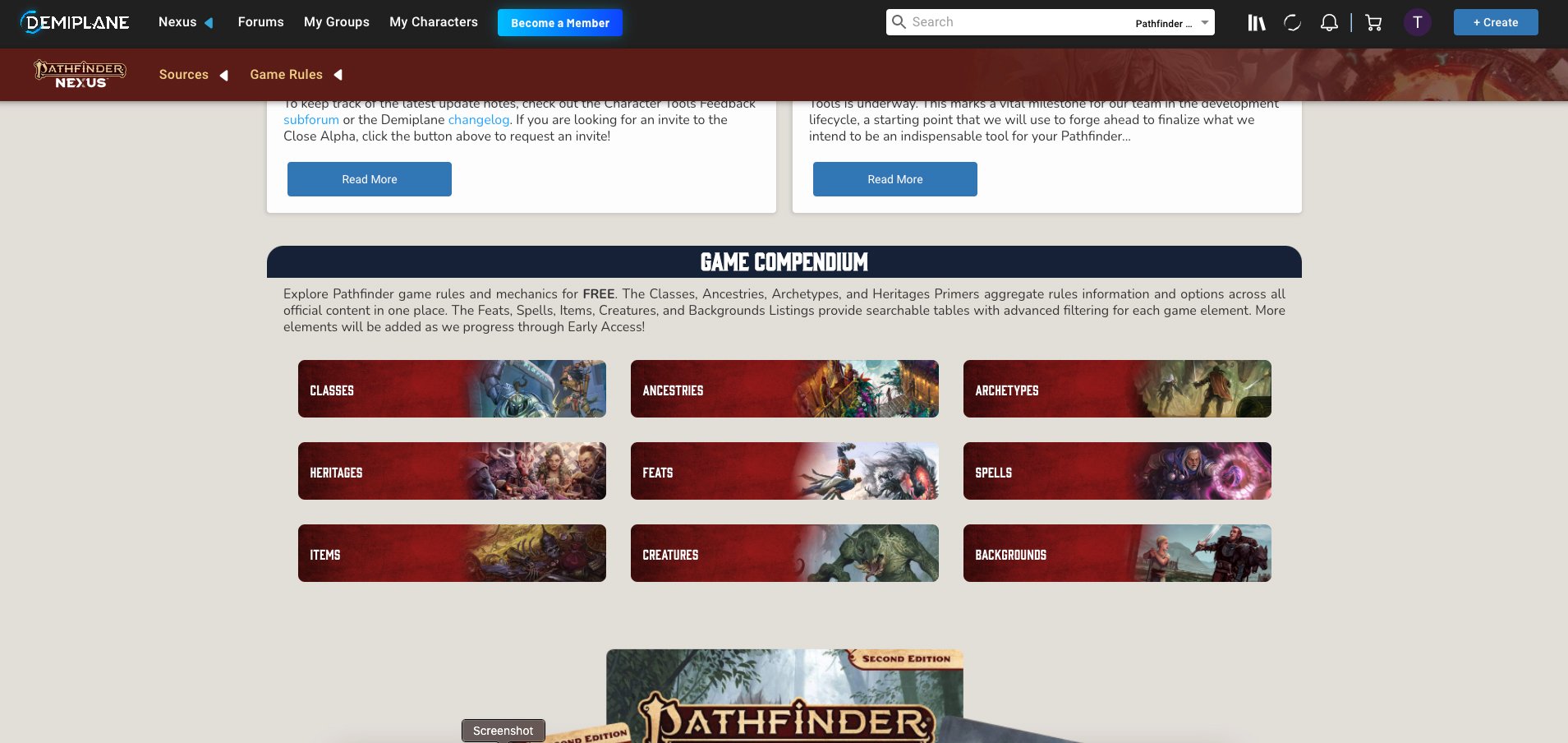 Digital Library
The Digital Library is where you access all of the premium Pathfinder materials you've purchased. It also serves as a shop where you can pick up additional Pathfinder books and bundles here. And these books are no mere PDFs. Unlike the traditional PDF format for printed materials, Pathfinder NEXUS brings you complete, official materials enhanced with Pathfinder players and GMs in mind. Through Pathfinder NEXUS, this source material is…
Optimized for desktop, tablet, and mobile
Easy to navigate and search
Imbued with tooltips, cross-references, and pop-out information
Accessible for screen readers
Available on any device with a data connection
Interconnected with your entire collection of Pathfinder NEXUS digital books
What's Next?
Demiplane's NEXUS tools are always improving, and your feedback is priceless in continuing to develop our offerings. The Demiplane forums are a great way to stay connected, share feedback, and receive updates.

Pathfinder NEXUS will continue to grow and evolve as time progresses, with one goal in mind: help you and your friends tell amazing Pathfinder 2nd Edition stories together. We're honored to be a part of the adventures you create!
Learn more about our newest feature, Pathfinder NEXUS Character Tools, now in open beta.